Calumet Carton is proud to announce that we have been featured as one of the "Top 10 Manufacturing Packaging Solution Providers - 2020" in Manufacturing Technology Insights magazine.
The Manufacturing Technology Insights magazine chooses its top 10 packaging solution providers to highlight the companies that are equipped with innovative technological capabilities and that are making significant contributions to the manufacturing sector.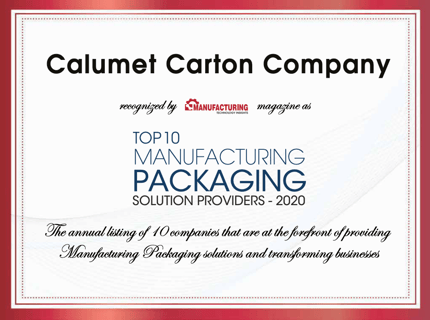 Since 1930, our team at Calumet Carton has grown immensely in terms of innovative technology and solutions. Our flexibility allows us to work with a wide variety of companies with unique projects and gives us the ability to go from very small to very large runs while also being able to react quickly to demands of the customer. According to Director of Marketing, Gina Inwood, "our entrepreneurial approach backed with real capabilities, both personnel and equipment, has allowed us to endure all of the economic cycles and the environmental trends that are going on around us."
Read our feature in the Manufacturing Technology Insights magazine to learn more about our effective solutions and practices below.